ABOUT JACK MEAGHER
Jack Meagher, co- founder of Wilson Meagher Sports Therapy®
In the mid-1950s, Jack Meagher (pronounced "Mar") – a pioneer in the field of massage therapy – coined the term "sportsmassage." Under that umbrella, he combined a series of specific soft tissue applications based on anatomy, physiology and muscular kinetics. The application of these techniques became known as the "Meagher Method" of sportsmassage.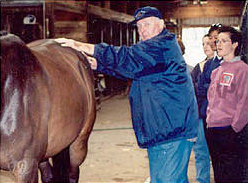 Jack was the massage therapist for two United States Equestrian Teams as well as for National Football League athletes represented by Professional Sports Management. Jack divided his work week between horses and humans, tending many of the top horses of the world, leading athletes in a variety of sports as well as European royalty. He served the United States Equestrian Teams at the Montreal Olympics in 1976 and at a number of World Championships in the U.S. and around the world. In recognition of his work, Jack was awarded the USET certificate of Achievement and an honorary membership in the American Massage Therapy Association (AMTA).
Jack was a graduate of two massage therapy schools and a school of physical therapy. He was technical advisor for sportsmassage to the AMTA. His book Sportsmassage (Doubleday and Station Hill Press, 1985), introduced the concepts of sportsmassage to massage therapists and athletes. This book was required reading for a number of schools as well as for the New York State Licensing Board. He conducted teaching seminars on his technique throughout the United States and Canada for both horses and humans. Jack was the first recipient of the Dr. Marty Simensen award. Jack's publications include: "Beating Muscle Injuries for Horses," "Beating Muscle Injuries for Runners," and "Sportsmassage."
Jack Meagher passed away March 6, 2005
"Jack was my teacher, mentor, associate and friend. He gave me the opportunity to learn and practice his method of sportsmassage which changed my professional life. I owe my success to him. He was a generous, creative, and brilliant man who was down to earth, and kind to all. I have dedicated my career to carrying on his legacy and methods, ensuring the future of the original Meagher Method of sportsmassage."
-- Jo-Ann Wilson, M,Ed., Director of Wilson Meagher Sports Therapy® Program
"I give my highest professional endorsement for the hands on therapy created by Jack Meagher. His work with horses and high-performance athletes is legendary within the field. His book, "Sportsmassage," helped revolutionize the application of clinical massage to peak performance. I knew Jack for nearly 15 years and was honored to have written the introduction to the revised edition of his book, and consider him a mentor, not only to myself, but to an entire generation of sports therapists."
-- Robert King (Founder and Director of Chicago School of Massage Therapy and past AMTA National President)