ABOUT US
The mission of Wilson Meagher Sports Therapy®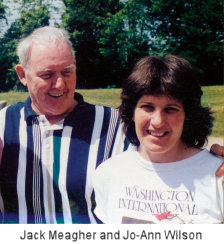 Our mission is to restore a horse's natural ease and range of motion by providing the highest level of clinical and educational services.
Millions of sport and pleasure horses experience problems in motion resulting from the strain and exertion of exercise or work. These problems lead to diminished performance which may result in a change in stride length, drifting to one side, heavy in one rein, a hollowed back, even a change in attitude. Jo-Ann Wilson, M.Ed. has been correcting and preventing motion problems in horses for 20 years using the proven Wilson Meagher Method™ of sports massage. Now she is bringing this method to all of us who want to see our horses move better, perform better and last longer.
You don't have to be a professional therapist to help your horse move better. What you need are the right skills applied in the right way and a desire to learn. That's the philosophy and design behind the Wilson Meagher Sports Therapy® Program – to provide you with the highest level of clinical and educational services offering you the opportunity to change the way your horse moves, restoring your horse's full potential.
If you are a professional, the Wilson Meagher Sports Therapy program can help enhance your skills by introducing you to a methodology that was first developed by the late Jack Meagher, a pioneer in the field of massage therapy and the first known massage therapist to coin the term "sportsmassage." Jo-Ann Wilson, a world-renowned clinician, author, researcher and teacher is a nationally certified and licensed massage therapist. Jo-Ann offers a professional certification program providing CE hours through the NCBTMB to professionally licensed massage and physical therapists as well as chiropractors.
To learn more:

Wilson Meagher Sports Therapy® Program

Wilson Meagher Method™

Jo-Ann Wilson

Jack Meagher