WILSON MEAGHER SPORTS THERAPY® PROGRAM - Accept nothing less than maximum performance
The Wilson Meagher Sports Therapy Program: General Description for both Professionals and Horse Owners
The Wilson Meagher Method is a world renowned comprehensive educational and clinical service delivered through a variety of ways to help your horse move better, perform better and last longer. See the specific details of our Professional Training and Certification programs and for our Workshops, and Seminars.
This program will: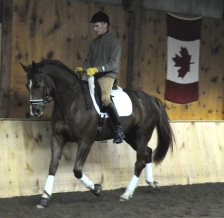 1. Demonstrate how to assess and identify where problems in motion occur and how to correct them.
2. Explain and demonstrate how to perform sportsmassage techniques to increase your horses range of motion.
3. Help you assess the overall strength of your horse and explain strengthening exercises that build and maintain overall health and well being.
4. Expand your horsemanship skills by including sportsmassage as another resource for maintaining general health and preventing injury.
5. Enhance your skills as a professional with an equine sportsmassage specialization, achieving Continuing Education Hours through NCBTMB that result in a broader practice and greater success.
Learn Your Way:
Educational DVD's – easy to follow DVD created by Jo-Ann to help you help your horse

Free Educational E-Newsletters