WILSON MEAGHER METHOD™
The greatest asset any moving body can have is complete freedom and ease of motion.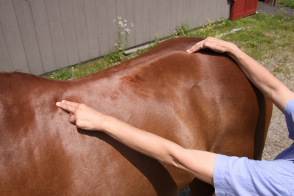 The philosophy behind Wilson Meagher Sports Therapy® is that anything less than maximum efficiency can lead to a problem in performance or even injury. The method is built on the premise that the greatest asset any moving body can have is its complete freedom and ease of motion. All athletes – horse or human – perform better when they can move better. Jack Meagher (pronounced "Mar") and Jo-Ann Wilson have proven this with their work with world-class equine champions at the Olympic Games (1976, 2000), at the World Championships and the Pan American Games, as well as with pleasure horses across all breeds and disciplines. Read our testimonials to find out what professionals have to say about the Wilson Meagher Method™.
Objective
The Wilson Meagher Method of equine sports massage is designed to achieve an increase in the horse's ease and range of motion, resulting in improved performance.
The Method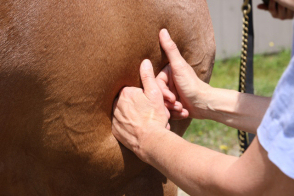 The Wilson Meagher Method combines the logic and technique of sportsmassage developed by the late Jack Meagher with the practice of specific soft tissue applications, biomechanics and body conditioning developed by Jo-Ann Wilson. The harmony of these two practitioners created a proven and well-documented method that has been helping equine and human athletes for 20 years.
The Wilson Meagher Method is based on an understanding of the biomechanics of motion and employs the application of an anatomically accurate series of soft tissue techniques based on that understanding. Since every muscular problem has a cause, not only does the application of the Wilson Meagher Method™ alleviate the problem, but more importantly, the application of this Method can help determine and eliminate the cause.
The Wilson Meagher Method also addresses the strength and conditioning of the horse as well as the use of tack as primary or secondary contributors to muscular problems associated with decreased range of motion and compromised performance. When all these contributing factors are considered and understood, strengthening and stretching exercises can then become integral components of the method.
The techniques used in the Wilson Meagher Method have been scientifically researched through a grant awarded by the former American Massage Therapy Association Foundation, now the Massage Therapy Foundation. The results of the research are presented in the Articles & Research Section of this site.