NEW PROGRAM: CANINE MASSAGE
By Susan Spisak | Aug 01, 2016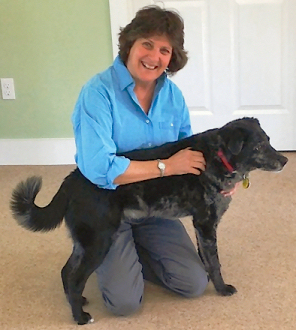 "Every dog deserves to be free of muscle pain and tightness," says Jo-Ann Wilson, M.Ed of Mid Coast Maine, a world-renowned, nationally certified and licensed massage therapist and Director of the Wilson Meagher Sports Therapy® Program. The program's scientifically researched Wilson Meagher Method of Sportsmassage is a combination of the groundbreaking "Sportsmassage" principles founded by her longtime business partner, Jack Meagher, and the biomechanics, body conditioning and soft tissue sportsmassage techniques that Jo-Ann uses. Their distinctive massage techniques alleviate muscle restriction and pain while increasing range of motion, thus giving a dog stability, balance, and endurance.
The Wilson Meagher Method of Sportsmassage was originally created for use with human athletes by Jack Meagher, then was expanded to include equine athletes and dogs. The method identifies the stress points in the muscle, then relaxes its tightness through one or more of the three massage techniques—compression, cross fiber, and direct pressure. The results are an increase in freedom and range of motion, a lower risk of injury, improved performance, and a general sense of well being.
For the family dog, he's going to feel better and be happier. Working dogs will be able to serve longer, while competitive and show dogs will have an improved performance. "The looser the dog is…it doesn't take as much energy to move, so you have better endurance, more stamina."
Jo-Ann's first step is to evaluate the dog's motion through muscular kinetics, a form of gait analysis; she does this by watching him walk. She checks for restriction or if he's "short on one side or crooked." She questions the owner on changes in performance, stance, neck, shoulder or leg posture, or if he has any veterinary issues. Once she hones in on the problem area, she tries to identify the cause, and then uses her sportsmassage techniques, to eliminate the restriction that is created by muscle tightness.
However, she adds that the tight muscle may be compensating for a tendon problem, or even masking an injury. For this reason, she prefers to see a client in conjunction with a vet; one in particular is Judith K. Herman, DVM, owner of the Animal Wellness Center in Augusta. "Sometimes muscle tightness can be secondary or a manifestation of a deeper problem," explains Jo-Ann. The vet can get to the root of the problem if it's not caused by muscle strain or overexertion.
Dr. Herman has had Jo-Ann massage clients' dogs as well as her own, adding that results were immediate. She sponsored a canine massage seminar featuring Jo-Ann this year and shares, "The best was an elderly show dog, known for her fabulous gait [that] had back surgery a few months earlier. The guardian had taken her to physical therapy and laser therapy. You could see the stiff and guarded movement of this dog. After she was massaged, we watched her move. The guardian was in tears saying, 'I have my dog back!' It was a very emotional moment for all of us."
Jo-Ann thoughtfully entered into massage therapy; she was a licensed RN and director of a large child and adolescent program near Boston. She was impressed by Jack's Meagher's Sportsmassage for animals and humans; he founded it and its one word description in the 60's and was sought after by professional athletes, top dancers, and Olympic equestrian teams, and he was working on her own horse's back problem. "I was at a crossroads in my life where I thought I would like to pursue something else, and what he did was fascinating."
In response to her request to study with him, Jack replied, "No." He added that if she went to a good school to become a licensed massage therapist, understanding anatomy, physiology, and motion, he would mentor her and teach her his Sportsmassage. Once she was certified, their collaborative efforts continued; they co-founded the Jack Meagher Institute of Sports Therapy and then the Wilson Meagher Sports Therapy® Program. Their partnership lasted fifteen years until he passed away in 2005.
Jo-Ann's worked on Westminster dogs; one Akita won "Best in Breed." But for this animal lover, they all matter, "I can claim all these top dogs, but there are lots in between and they're all important." She's been the sports therapist for horse and riders with past medal winning USA and CA Olympic and World Game Equestrian Teams and is serving as the 2016 official Olympic Team Sports Therapist for the USA Equestrian 3 Day Eventing Team in Rio De Janeiro, Brazil. This will be Jo-Ann's third Olympic Games as a Team Sports Therapist.
Jo-Ann's practice is diverse: as a clinician performing the hands-on Wilson Meagher Method in all categories of equestrianism to athletes and everyday people suffering from injuries to the canines, the worldwide and local competitors in disciplines such as agility and show to the hunters and trackers, and to the family dog. She's pleased with the effects on all, "They feel better, they're more relaxed."
She not only offers a certification program but holds clinics for animal owners, professionals and college students on the Wilson Meagher Sports Therapy® Program worldwide, teaching them the necessary application. "I like to give people the skills to help their own dogs [or horses]."
She's approved by the National Certification Board for Therapeutic Massage and Bodywork and is a continuing education Approved Provider. She's written and been the subject of countless articles and has published her significant research study that proved the method of Sportsmassage has a strong scientific base.
Despite her prominence and demanding travel schedule, she always looks forward to getting back to her local friends and clients, her partner, archaeologist Leith Smith, their "cute" rescued dog named Chowder, and Maine itself: "I travel around the world, and it takes a long time to get to paradise. It's the natural environment of Maine that gives me balance."
Visit Downeast Dog News for "All the dog news you need!"