PRACTITIONER IN TECHNICAL SKILLS OF EQUINE SPORTSMASSAGE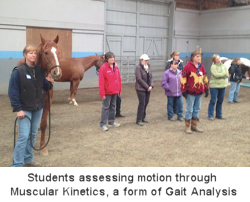 Offered by Wilson Meagher Sports Therapy and Downeast School of Massage
Dates: May 13-18, 2018; October 14-19, 2018.
Time: 9am-4:30pm each day, except Friday, 9am-5pm; some dinner meetings
Locations: This course will be offered in several performance barns within mid-coast Maine.
Course Credits: 41 CE hours
Cost: Please contact Downeast School of Massage, at 207 832 5531 or email via downeastmassage@gmail.com.
Course Description: This Equine Sportsmassage program trains individuals with experience in the equine industry in the logic, technique, and application of the Wilson Meagher method. Applicants are not required to be professional human massage or physical therapists.
Causes of muscle tightness affecting general function and performance will be investigated and addressed. Horses of various breeds, disciplines, and levels of performance will be used for clinical practice. Gait Analysis, Conditioning and strengthening are addressed, as well as the effects of saddle fit.
Participants will:
Review structure and function of equine anatomy as it pertains to movement and performance.

Discuss the logic and apply the technique to the horses to alleviate muscle tightness.

Understand the effects of specific muscle tightness and its effects on performance and motion.

Recognize limitations of motion through the observation of equine movement/muscular kinetics.

Restore free motion and range of motion to the horses by directly applying the hands on technique.
The program includes 6 days, 41 hours of a combination of morning classroom work to review required curricula, and multiple days of clinical work in private barns on competition horses. Note: Day 1, participants will be tested on the pre requisite materials consisting of bones and muscles.

Instructors: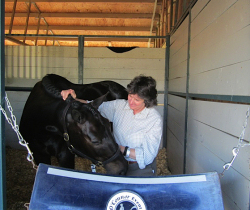 Jo-Ann Wilson, M.Ed., nationally certified and licensed massage therapist was a longstanding associate of the late Jack Meagher, pioneer of sportsmassage. Jo-Ann is the Director of Wilson Meagher Sportstherapy, a program within which she trains massage and physical therapists worldwide, and offers workshops for horse owners.
Most recently, Jo-Ann served as Sports Therapist for the US Eventing Team for Horses and Riders at the 2016 Rio Olympic Games winners of the Individual Bronze Olympic Medal. She served Horse and Riders at the 2015 Pan American Game in Toronto Canada, winners of the Team and Individual Gold Medals. She served United States horses and riders at the 2003 Pan Am Games . Jo-Ann served as the sports therapist for horses and riders on the United States Equestrian Team's 3-Day Eventing team at the 2000 Olympic Games in Sydney Australia, winners of the Individual Gold and Team Bronze Medals. She has also worked with horses who have competed at multiple World Games, World Cup, and Olympic Games.
When she was not working for the United States, Jo-Ann was the official Team Therapist for horses and riders for the Canadian Equestrian Team. She served Equine Canada 3 Day Eventing Team at the 2010 World Games, winners of the Team Silver Medal. In her role as Team Therapist for Equine Canada, Jo-Ann worked with Canadian horses and riders at the 2012 London Olympic Games as well as the 2014 World Equestrian Games in Normandy, France.
Jo-Ann's work has been featured in major professional and equine publications including Dressage Today, The Chronicle of the Horse, Practical Horseman, and Massage Therapy Journal.
Jo-Ann was honored to be selected to present "Sportsmassage for the World's Largest Athlete" at the 2010 World Equestrian Games. Jo-Ann has spoken at numerous equestrian events. Her work has been featured in such leading magazines as Practical Horseman, Dressage Today, and The Chronicle of the Horse.
Jo-Ann continues to maintain a human practice as well, using the Wilson Meagher Method with her human clients. She is a graduate of the Muscular Therapy Institute, Cambridge, Massachusetts (now Cortiva Institute).
Jo-Ann was the principal investigator of a research grant titled "The Effects of Sportsmassage on Athletic Performance and General Function," funded by the Massage Therapy Foundation in 2001. The findings of the grant were published in the American Massage Therapy Journal, Summer 2002.
Her current practice includes all levels of equestrian sports including eventing, dressage, hunters, jumpers, driving, racing and pleasure horse companions. Contact Jo-Ann for more information.
Jo-Ann recently produced an instructional DVD titled "A Course in Equine Sportsmassage, Lesson One" featuring the Wilson Meagher method. Jo-ann also offers online training for eliminating specific muscular problems in motion.
Nancy W. Dail, BA, LMT, NCTMB has been a professional massage therapist and member of the AMTA since 1974. She is the founder and director of the internationally known program at the Downeast School of Massage in Waldoboro, ME (1980).
A leader in her field, she has served on the AMTA national board, numerous committees, and was the charter President of the Maine AMTA Chapter. Nancy has taught and presents workshops internationally, is certified in Orthopedic and Sports Massage, and has developed the working philosophy of Dimensional Massage Therapy as lead author in Kinesiology for Manual Therapies published by McGraw-Hill.
Her BA in Health, Arts, and Science from Goddard College helps her balance her administrative duties as Director with teaching Dimensional Massage Therapy, Advanced Skills, Kinesiology, Ethics, and related subjects at DSM.
Nancy enjoys her therapeutic practice for her clientele, traveling and teaching, and playing with her grandsons, Alexander and Kingston, whenever possible at her home in Waldoboro.
Also: Travis French, Farrier

To register or for more information, contact Downeast School of Massage, 207-832-5531